The Laurels of Bon Air Staff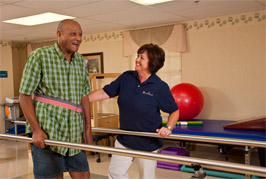 What differentiates one skilled nursing & rehabilitation center from another? The answer is... the people who work and reside there! The people set the tone, the atmosphere, and the expectations. At The Laurels of Bon Air, we take great pride in ensuring that everyone feels like part of our family, and that they are treated as special "guests" in our home.
The Laurels of Bon Air employs a team of highly qualified medical professionals, including a Medical Director, Registered Nurses, Restorative Care Nurses, a Wound Care Nurse, state tested Certified Nursing Assistants, Physical Therapists, Occupational Therapists, and a Speech Therapist. Our on-site Rehab, Dietary, Social Work, and Activities departments provide personalized and compassionate care to each guest. From the moment you walk through the front doors, the warmth and caring of the staff will begin to gain your trust and confidence, as they strive to exceed your expectations.
Unlike other facilities that use "contracted" staff members, each member of the team at The Laurels of Bon Air is directly employed, not "contracted". Each Team Member takes great pride in portraying "The Laurel Way of Caring", as they strive for excellence in providing only the highest standard of care and services to every guest, and to every family member and visitor. Come on in! Visit a while! Let us show you our very best... let us show you The Laurel Way.
Ryan Koeniger, Administrator
Ryan grew up in the Midlothian area and graduated from Clover Hill High School. He attended Virginia Commonwealth University for a few years after high school and moved to Florida in 1998 where he graduated from The University of South Florida (Tampa, FL) in 1999 from the College of Business Administration. Ryan has been employed in healthcare sales and administration since graduation. He began his career in the Lasik eye surgery field in sales and marketing in St. Petersburg, FL and then grew into home healthcare sales thereafter. As he spent a great deal of time in skilled nursing facilities as a home healthcare sales representative, Ryan grew interested in the field and its many management responsibilities and moved to Roanoke, VA in 2005 to begin an apprenticeship in long-term care administration. Ryan is proud to have served and worked with so many interesting people – and has a passion for assuring each patient receives excellent care. Ryan joined The Laurels of Bon Air in November 2013 as he and his wife, Jennifer, (who is an Assisted Living Administrator) moved to Glen Allen in November 2013 from Charlottesville. They are really enjoying living in the Richmond area!! Ryan enjoys playing basketball, soccer and golf and spending time with family and friends.
Tara Davis, RN, Director of Nursing
Tara began her career in nursing as a Certified Nursing Assistant in 1986 at a long-term care facility. She furthered her education with a certificate as a Medical Assistant and received her LPN Degree in 1999 from Richmond Technology Center. Ms. Davis' dedication to the geriatric population led her to pursue her RN Degree which she received in 2003 from Southside Regional School of Nursing. Her career has led her through all phases of long-term care nursing. Ms. Davis joined the team at The Laurels of Bon Air before the doors were even opened as the Assistant Director of Nursing. When the Director of Nursing position became available due to a retirement, Ms. Davis was the logical choice as successor.
Heidi Boyce, Director of Marketing
Heidi is a native of Chesterfield, Virginia and graduated from Thomas Dale High School in 2003. Following high school, she attended Richard Bland College, the Junior College of William and Mary, and graduated with her Associate in Science Degree in 2006. She then attended Averett University, graduating with her Bachelor in Business Administration Degree in 2008. Finally she attended Liberty University graduating with her Master of Arts in Management and Leadership Degree in 2010. She has been in the skilled nursing and rehab field for several years holding positions as a hospital liaison and district sales manager for previous companies. She currently resides in the Enon area with her daughter, Madilyn.
Tyler Mackall, Rehabilitation Services Director
Tyler Mackall graduated from Kent State University with an Associate's Degree in Physical Therapy Assisting Technologies in 2007. Upon graduating, he started working for a long-term care facility, and joined The Laurels of Charlottesville as a Licensed Physical Therapy Assistant in October 2007. He was interested in the management aspects of the therapy department and quickly learned the roles and responsibilities necessary to serve as the Rehabilitation Services Director (RSD). In the 4 years that he worked for The Laurels of Charlottesville, he assisted the director and assumed these duties whenever needed. With a helpful spirit, he served as the Interim RSD for The Laurels of University Park for a month to further gain management experience. In March 2012, he joined The Laurels of Bon Air as the permanent RSD. In addition to his responsibilities of directing the department, he enjoys providing direct treatment several hours each week.
Tyler is married and spends his free time renovating his new home in the Midlothian area.